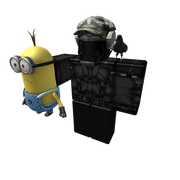 Trung39 is currently a Justicar in the Roblox Assault Team. Trung39 joined the Roblox Assault Team on December 31st, 2011, and has stayed in the group to the present day. One of his most noticable achievments include having the second highest ammount of Skill Prestige during CJ's era.
Trung4BestJusticar
Deny
Trung4FoL2013
Trung4Marshal2013
FabiaoSlave
Ad blocker interference detected!
Wikia is a free-to-use site that makes money from advertising. We have a modified experience for viewers using ad blockers

Wikia is not accessible if you've made further modifications. Remove the custom ad blocker rule(s) and the page will load as expected.